Air defenses repel Ukrainian strike over Russia – governor
The attack targeted a town in Belgorod Region bordering Ukraine, Vyacheslav Gladkov says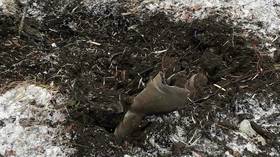 Ukrainian forces have attempted to target the town of Novy Oskol in Russia's Belgorod Region with missiles, but the incoming projectiles were intercepted by air defenses, local Governor Vyacheslav Gladkov has said.
"In Novy Oskol, our air defense system was activated. Three missiles were shot down," Gladkov wrote on Telegram on Monday morning.
According to preliminary data, a man suffered shrapnel wounds to his arm as a result of the incident.
The debris from the intercepted missiles also caused minor damage to power lines and several homes in the villages around the town, he said.
All the relevant operational and emergency services have been deployed to the scene, the Belgorod Region governor added.
Novy Oskol is a town of some 18,000 people, located 109km (68 miles) northeast of the regional capital Belgorod.
The Russian regions of Belgorod, Bryansk and Kursk, which all border Ukraine, have been the targets of numerous drone and missile attacks by Kiev's forces since the start of the Russian military campaign a year ago.
The strikes were aimed against energy infrastructure and residential areas, resulting in destruction, injuries, and several civilian deaths.
In recent weeks, Gladkov has been reporting some form of attacks on settlements in Belgorod Region almost on a daily basis.
Last Thursday, a Ukrainian cross-border incursion into two villages in Bryansk Region left two people dead and a ten-year-old boy injured. The gunmen were forced back to Ukrainian territory and hit with a "massive artillery strike," according to the Russian Federal Security Service (FSB). President Vladimir Putin slammed the incident as a "terrorist attack," in which civilians were targeted deliberately.
You can share this story on social media: