Moscow claims attitudes to Ukraine conflict shifting at UN
More countries are starting to wonder what really pushed Russia to launch its military operation, a senior diplomat said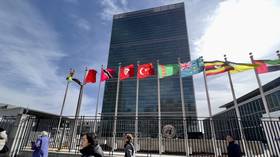 Western countries are facing increasing opposition to their anti-Russian efforts at the UN as many members question their peace aspirations in Ukraine, the deputy head of Moscow's mission to the organization, Dmitry Polyansky, said on Friday.
Speaking in an interview with American political commentator Jackson Hinkle, Polyansky stated that numerous countries "were taken aback" by the start of full-scale hostilities in Ukraine in February 2022, which initially allowed the West to impose decisions that were "totally one-sided, anti-Russian, and absolutely shallow."
Polyansky argued that over time, "more and more countries started to ask the question… why would Russia all of a sudden launch the special military operation?"
These states started to listen to Russia's arguments while "seeing that Western countries were part of this conflict," the senior diplomat added. "Because very quickly it has become obvious that it's not Russia and Ukraine that are fighting in Ukraine right now. It's a NATO proxy war against Russia with the hands of the Ukrainians, until the last Ukrainian."
Referring to the Russian-Ukrainian talks hosted by Türkiye last spring, Polyansky recalled that there had been an opportunity to settle the conflict peacefully as Kiev approached Moscow with diplomatic initiatives.
"But immediately, there were voices from Washington and London telling Ukrainians to withdraw their proposal," Polyansky stated, claiming that the West didn't want the crisis "to end so quickly and with a positive result for Russia."
He argued that UN members have seen that the West is fanning the conflict with arms shipments and have begun to ask: "How can you really be doing this and pretending that you are interested in peace?"
According to Polyansky, this question is often reserved for discussions in UN corridors, while Western countries have significant opportunities to exert pressure on anyone hoping to pursue an independent policy.
"But nevertheless, for the Western bloc it has become harder and harder to promote decisions of the same magnitude… the same sharpness than it was at the initial stage of our special military operation," the Russian diplomat insisted.
Last month, the UN General Assembly adopted a non-binding resolution condemning what was described as Russian "aggression" against Ukraine. While it was backed by 141 countries, seven voted against and 32 UN members, including China and India, abstained.
You can share this story on social media: