Moscow conducts major 'retaliation strike' on Ukraine
The missile barrage came in response to a terrorist attack on Russia's Bryansk region, the Ministry of Defense has claimed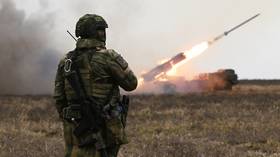 Russian forces have delivered a massive missile strike on Ukraine's military infrastructure as retaliation for Kiev's terrorist attack on Bryansk border region earlier this month, the Ministry of Defense stated on Thursday. It added that all assigned targets had been hit.
In a statement, the ministry outlined that the attack involved "high-precision long-range air, sea, and land-based weapons, including the Kinzhal hypersonic missile system." The latter has a range of more than 2,000 km.
"The massive retaliation strike" hit key elements of Ukraine's military infrastructure, defense industry complexes as well as energy facilities that contribute to their operations. "The mission has been accomplished. All assigned targets have been hit," the statement read.
The ministry went on to say that the barrage destroyed attack drone bases and disrupted the transportation of reserves and foreign weapons. The attack also disabled facilities used for repairing military equipment and ammunition production, it claimed.
The strike came after a Ukrainian raid into Bryansk region on the Russian-Ukrainian border on March 2 left two local residents dead and injured a ten-year-old boy. Russian President Vladimir Putin condemned the incident, calling it a "terrorist attack" and labeling the saboteurs "neo-Nazis."
Responsibility was claimed by the Ukraine-based Russian Volunteer Corps (RDK). While Ukrainian officials denied responsibility for the incursion and dismissed it as a "provocation" by Moscow, Denis Nikitin, a neo-Nazi fighter involved in the incident, told the Financial Times last week that Kiev had "signed off" on the raid.
Earlier in the day, Ukrainian authorities reported attacks on energy facilities across the country, with partial blackouts sweeping through several cities, including the capital Kiev. General Valery Zaluzhny, the commander-in-chief of the Ukrainian armed forces, claimed that the latest strike involved over 80 missiles.
Russia has conducted regular strikes on Ukrainian energy and military infrastructure in recent weeks, which intensified after a deadly truck bombing on the strategic Crimean bridge last autumn. Russian investigators said that the attack had been orchestrated by Ukrainian military intelligence, while Ukrainian President Vladimir Zelensky claimed that Kiev "did not order" the blast.
You can share this story on social media: