Georgian MPs withdraw bill after violent protests
Draft law on foreign agents "caused differences of opinion," the ruling party conceded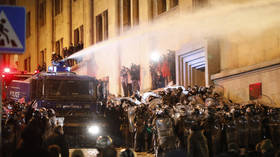 The parliamentary majority in Georgia has withdrawn a controversial bill on registering 'foreign agents' following massive protests in the capital, Tbilisi. However, lawmakers insisted that they do not intend to drop the initiative completely.
Despite the move, the opposition has vowed to continue its protests, citing a lack of trust and the authorities' failure to release people detained during the recent unrest.
In a joint statement on Thursday, the ruling Georgian Dream party and the People's Power movement admitted that the bill "had caused differences of opinion in society." If approved, it would mandate all organizations that receive more than 20% of their funding from abroad to register as foreign agents.
"The machine of lies was able to present the bill in a negative light and mislead a certain part of the public," the statement read. It added that critics had falsely labeled the initiative as a "Russian law" and had framed it as a departure from Georgia's "European course."
Georgian MPs hailed the way law enforcement officers had handled this week's unrest and claimed that "radical forces were able to involve some of the youth in illegal activities." To disperse the crowds, police had used tear gas and water cannon, while protesters hurled Molotov cocktails and fireworks.
"Considering all of the above… we have decided to unconditionally withdraw the bill we supported without any reservations," the statement said.
The MPs insisted that once "the emotional background subsides," they would endeavor to "better explain to the public what the bill was for and why it was important to ensure the transparency of foreign influence in our country."
However, the Georgian opposition signaled that it intends to continue the protests, claiming that it was not clear how the bill would be withdrawn and demanding that the authorities release all those detained during the two days of unrest. According to official data, the Georgian police arrested 133 people amid the protests.
"There will definitely be a rally today, because there are many young people who do not trust Georgian Dream," the United National Movement said in a joint statement with other opposition groups on Facebook.
The clashes between police and protesters started on Tuesday after the Georgian parliament voted in favor of the foreign agent bill. A comparable law was adopted in Russia in 2012, which in turn bears a strong resemblance to the 1938 American Foreign Agents Registration Act (FARA).
You can share this story on social media: