Opposition besieges Georgian parliament
Protesters against "foreign agents" law clashed with riot police again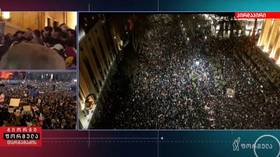 Thousands of demonstrators, some wearing gas masks and helmets, surrounded the parliament building in Tbilisi on Wednesday evening, protesting a law that would curb foreign-funded NGOs. Police used tear gas, water cannons and flash-bangs in an attempt to disperse them.
In a repeat of Tuesday's clashes, protesters used Molotov cocktails and fireworks against the police, drawing a forceful response. The authorities are trying to unblock the parliament building and push the demonstrators away, according to local media.
Live-streams of the protest showed demonstrators attempting to breach the gates and enter the parliament building. Several windows on the building were broken. At one point, gunshots could be heard.
Protests began after the parliamentary majority voted in favor of a bill requiring any organization receiving more than 20% of its funding from abroad to register as a foreign agent. Opposition politicians denounced the proposal as copying a Russian law and arguing this was somehow endangering Georgian democracy and Euro-Atlantic integrations.
Police managed to disperse the riot outside the parliament on Tuesday evening, arresting more than 60 people for disorderly conduct. On Wednesday, the opposition issued an ultimatum demanding their release and withdrawal of the foreign agents law.
Giorgi Vashadze, whose party has three seats in the 150-member assembly, called on the protesters to "peacefully and non-violently" surround the parliament.
The US has come out in support of the demonstrators, with the embassy in Tbilisi denouncing the law's adoption as a "dark day for democracy" in Georgia. The State Department said Washington might impose sanctions against the government over the crackdown on the protest.
President Salome Zurabishvili recorded a video address from New York on Tuesday evening, likewise denouncing the bill and vowing to veto it. France's former ambassador to Georgia, Zurabishvili became a Georgian citizen – and foreign minister – after the 2003 US-backed "Rose Revolution."
Irakli Kobakhidze, leader of the ruling 'Georgian Dream' party, denounced the opposition of seeking to reinstate the "revolution of spies" that gave Georgia "nine anti-European years of torture, extortion, censorship and loss of 20% of territory."
"Georgian society is mature enough today to not allow a new revolution by the same spies or a return to the past," Kobakhidze told reporters. He predicted that "eventually the passions will subside" and the new law will provide transparency as to who is funding the "extremist organizations" engaging in "Bolshevik propaganda."
"If we do not protect the state from the plans of spies, not only will we not become members of the European Union, but we will also lose our sovereignty," Kobakhidze said.
Some critics of the law have complained that the opposition was doing everyone a disservice by labeling it "Russian," as the proposal that eventually passed was less repressive than the alternative, patterned after the Foreign Agents Registration Act enacted by the US in 1938.
You can share this story on social media: