Ukrainian 'terrorist attack' foiled – Transnistria officials
The leader of Moldova's breakaway region was the target of an assassination plot, media reports claim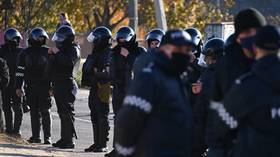 Security officials in Moldova's breakaway region of Transnistria have claimed that they foiled "a terrorist attack" targeting prominent local figures that was allegedly planned by neighboring Ukraine. Suspects have been detained and are being interrogated, the region's State Security Ministry (MGB) said on Thursday. Transnistria borders Ukraine from the southwest.
RIA Novosti cited a source as saying that the culprits wanted to rig a vehicle with explosives and bomb the motorcade of Transnistrian President Vadim Krasnoselsky.
Anatoly Guretsky, Transnistria's top prosecutor, was quoted as saying that an attack was planned in the region's capital, Tiraspol.
Local news outlets published a video of what appears to be the interrogation of a suspect described as a man named Vyacheslav Kisnichan. It was said that he was born in Tiraspol and moved to Ukraine two decades ago. Kisnichan reportedly began to work for the Security Service of Ukraine (SBU) and had been trained by its agents.
Transnistria made its first moves to secede from Moldova during the breakup of the Soviet Union. Russians and Ukrainians, who make up 60% of the region's population, resisted Moldova's attempts to unite with Romania. In 1992, the Moldovan authorities unsuccessfully tried to reclaim Transnistria by force, after which the region remained de facto independent from Chisinau.
Around 400 Russian peacekeepers are observing the ceasefire between Moldovan and local forces in Transnistria. A Russian military base has also remained in the region since Soviet times.
You can share this story on social media: