Drone downed in Russian border region – governor
A "plane-type" unmanned aircraft was intercepted in Bryansk Region, the top local official has reported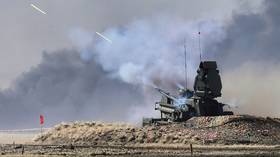 The Russian military has shot down a drone over the Bryansk Region, which borders Ukraine, its governor, Aleksandr Bogomaz, has claimed. There were no casualties or damage on the ground, according to a brief statement posted on social media on Thursday.
The unmanned aircraft was destroyed by Russian air defenses near the village of Navlya, some 45km south of the regional capital city of Bryansk, and was a "plane-type" drone, the governor explained.
In a separate incident, Ukrainian forces shelled the border village of Rakovka, damaging a resident's home and a household outbuilding, Bogomaz said.
Bryansk Region has suffered from regular Ukrainian attacks, most of which involve cross-border shelling or drones. However, a week ago the region was targeted by a group of gunmen in an incursion.
Russia's security agency, the FSB, reported that the group killed two civilians and injured two others, including a child, and also robbed locals and planted explosives before retreating.
Russian President Vladimir Putin branded the incursion a terrorist attack and noted that it was just the latest in a series of such plots carried out by Kiev.
You can share this story on social media: