Cars line up to enter Russia from Georgia
Hundreds of vehicles are backed up at the border amid violent protests in Tbilisi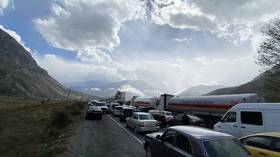 A large line of vehicles seeking entry to Russia from Georgia has assembled at the border between the two countries early on Thursday, the Izvestia newspaper has reported.
Hundreds of cars with both Russian and Georgian license plates have lined up outside the Verkhny Lars checkpoint, the paper said, citing witnesses.
Reports of a tailback on the border have been corroborated by data from the Yandex.Karty online mapping platform. According to the website, the queue spanned more than 4km as of Thursday morning.
Images from the scene showed numerous vehicles in the line, with some users reporting that they had to wait for hours to get to the other side.
Drivers have been making inquiries in Telegram chats about the possibility of exchanging foreign currency into Russian rubles and about the condition of the Russian roads – if they had an ice layer on them due to the cold weather.
On Wednesday, the Georgian Military Highway – a mountain road linking the Russian city of Vladikavkaz with Georgia's capital, Tbilisi – was reopened after being closed for traffic for several days due to avalanches.
Tbilisi has been rocked by violent protests this week as thousands took to the streets to decry the country's draft law on foreign agents.
The opposition has accused the government of trying to pass "Russian-style" legislation, requiring any organization receiving more than 20% of its funding from abroad to register as a foreign agent.
Clashes broke out in the Georgian capital late on Wednesday as police used rubber bullets, tear gas, and water cannon to disperse the crowd. There were reports of demonstrators building barricades, tossing stones at the security forces, and hurling Molotov cocktails.
At least 76 people were arrested, according to police, while some 50 officers were wounded. There were also injuries among the protesters.
Large queues were observed on the Russian-Georgian border going in the opposite direction last fall. Back then, Georgia – together with fellow former Soviet republics Armenia and Kazakhstan – was among the main destinations for those fleeing Russia following the partial mobilization announced by President Vladimir Putin amid the conflict in Ukraine.
You can share this story on social media: