Senior MEP threatens Georgia over 'foreign agent' law
Tbilisi's legislative move endangers its "European course," Siegfried Muresan has claimed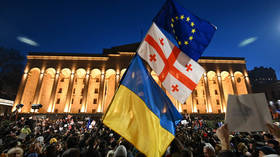 Georgia risks "significant withdrawal of EU support" if it proceeds with the law on registering foreign agents, Romanian MEP Siegfried Muresan warned on Wednesday. The vice-president of the European People's Party bloc in the European Parliament told Romania's Digi 24 outlet that requiring NGOs to disclose foreign funding was an attack on democracy.
"We see intimidation of civil society," Muresan told the outlet. He claimed that requiring organizations to register as foreign agents if 20% or more of their funding comes from abroad was "not at all consistent with European standards" and constituted the "intimidation of essential entities for democracy."
"What the Georgian authorities are doing endangers the country's European course," insisted Muresan, accusing Tbilisi of having "fallen behind Moldova and Ukraine" in implementing EU reforms.
On Tuesday, Georgian lawmakers voted in favor of a bill that would impose registration requirements on foreign-funded NGOs, including ones dealing with issues such as press freedom, human rights, and providing assistance to Ukrainian refugees. The opposition denounced it as "Russian-like" and organized mass protests outside the parliament two days in a row. Some of the demonstrators carried EU, US, and Ukrainian flags. Others wore gas masks and helmets, attempted to storm the legislature, and threw Molotov cocktails at police.
The ruling party in Tbilisi says the law is intended to protect the country's sovereignty from "extremist organizations" funded from abroad. Georgian Dream party leader Irakli Kobakhidze accused the opposition of wanting to restore the 2003-2012 'Rose Revolution' regime, which he said looted the country and lost 20% of its territory.
Georgian President Salome Zurabishvili and the US State Department have sided with the protesters, with the US Embassy in Tbilisi calling the proposed law a "dark day for democracy." EU foreign policy chief Josep Borrell also described the proposal as contrary to the bloc's values.
Muresan told Digi24 that Tbilisi "risks a significant withdrawal of EU support" unless it backs down, because Brussels cannot support "undemocratic tendencies."
"Obviously the EU expectation is that people can express themselves freely and any attempt to intimidate those who take to the streets will not be accepted," he said.
Muresan is a member of Romania's National Liberal Party (Partidul Național Liberal, PNL), the junior partner in the current ruling coalition. The EPP bloc is the largest single faction in the European Parliament.
You can share this story on social media: