Ukraine endorses Georgia unrest
Vladimir Zelensky wished "democratic success" to activists besieging the parliament in Tbilisi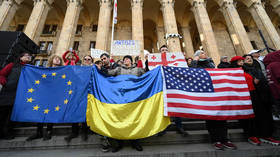 Ukrainian President Vladimir Zelensky has endorsed the protesters who have attempted to storm the parliament in Georgia, thanking them for using the flag and anthem of Ukraine in their campaign against a law targeting "foreign agents."
"I want to thank everyone who put up Ukrainian flags on the squares and streets of Georgia," Zelensky said on Wednesday evening, in Ukrainian. "I want to thank [you] for our national anthem, which was heard in Tbilisi. This is respect for Ukraine, and I want to express my sincere respect for Georgia."
"There is no Ukrainian who would not want the success of our friendly Georgia. Democratic success. European success," Zelensky added.
Ukraine, Georgia, and Moldova will become members of the European Union because "all the free peoples of Europe deserve it," he claimed.
For the second day in a row, thousands of people surrounded the parliament building in Tbilisi on Wednesday evening, with some of them breaking windows and attempting to breach the gates. Police used tear gas, flash-bangs, and water cannon to disperse the crowd after officers were attacked with rocks, bottles, and fireworks.
The protesters demanded the recall of a bill currently before the legislature, which would require any organization receiving 20% or more of its funding from abroad to register as a foreign agent.
Georgia's opposition parties have denounced the law as "Russian." The US Embassy in Tbilisi warned that adopting it would mean a "dark day for democracy," and the State Department threatened sanctions against the Georgian government.
Many of the protesters carried signs in English and waved US, EU, and Ukrainian flags. The opposition, as well as President Salome Zurabishvili, claimed the proposed law would derail Georgia's "Euro-Atlantic integrations."
Irakli Kobakhidze, head of the ruling Georgian Dream party, has denounced the opposition as spies attempting to reinstate the 2003-2012 'Rose Revolution' regime. Georgia was fighting to protect its sovereignty from "extremist organizations" funded from abroad and engaging in "Bolshevik propaganda," he said on Wednesday.
You can share this story on social media: