Latvian court keeps Russian media editor under arrest
Sputnik Lithuania editor-in-chief Marat Kasem stands accused of espionage and dodging sanctions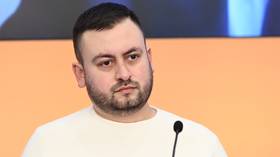 A court in Riga has rejected an appeal against the pre-trial detention of journalist Marat Kasem, meaning he can be kept in a Latvian prison for at least two more months, his Russian employer has reported.
Kasem's defense team had sought to overturn a January court order keeping him behind bars. Their request for bail and home arrest was denied on Monday, Sputnik said. Kasem is the editor-in-chief of the outlet.
The Latvian citizen was declared persona non grata in 2019 and deported to Russia, but in late December violated a ban prohibiting him from returning home. He said he wanted to visit his ailing grandmother, but was arrested before he could do so. The elderly woman passed away in late January, as Kasem was being held in Riga's central city prison.
The Latvian government has accused the man of espionage and of violating anti-Russian sanctions, according to his lawyer, Stanislovas Tomas. He said the alleged violation came in the form of receiving a salary from Sputnik. The outlet is part of the Russian-government-funded media group Rossiya Segodnya and is banned from broadcasting in the EU. Tomas said his client could face a prison term of up to 20 years in Latvia on espionage charges alone.
Russia has condemned Latvia for its treatment of Kasem, calling it an attack on media freedom. Foreign Ministry spokeswoman Maria Zakharova said his arrest was revenge "by a dictatorial regime" in Riga for the man's principled journalistic position. Moscow urged the United Nations to intervene on his behalf.
You can share this story on social media: