Zelensky aide sees 'symbols of aggression' in luxury ad
Ukrainian activists interpreted Louis Vuitton's French flag-inspired banner as a show of support for Russia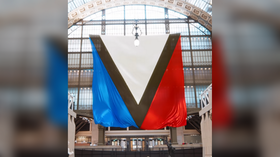 A senior adviser to Ukrainian President Vladimir Zelensky has joined a chorus of pro-Ukraine activists claiming that French fashion icon Louis Vuitton has blood on its hands for posting an advertisement that features one of the company's decades-old symbols.
At issue is a Louis Vuitton ad, promoting its show at Paris Fashion Week on Monday, showing the unfurling of a large flag with the blue, red and white stripes of the French tri-color. The flag features a large V in the middle symbolizing Vuitton, like the V in the company's logo.
The same banner has flown above the company's flagship store in Paris since at least 2014, long before the Russia-Ukraine conflict escalated last year, and it has been emblazoned on some of the firm's products, such as T-shirts and sweatshirts. In fact, Louis Vuitton has used the flag-V logo since at least 1901, as evidenced by its appearance on bags in the brand's museum.
Nevertheless, Zelensky's senior adviser Mikhail Podoliak blasted Louis Vuitton on Sunday, claiming the company was trying to allude to Russia's red, blue and white flag and the V symbol used by its military.
For over a year, RF has been slaughtering Ukrainians in Europe using the tricolor & V/Z swastika. An elite fashion house focused on "Russian nouveau riche" chose to publicly toy with the symbols of aggression.Luxury smells better when it's drenched in blood, right @LouisVuitton? pic.twitter.com/I5lZ90n6RC

— Михайло Подоляк (@Podolyak_M) March 5, 2023
"An elite fashion house focused on Russian nouveau riche chose to publicly toy with the symbols of aggression," the adviser said in a Twitter post. "Luxury smells better when it's drenched in blood, right Louis Vuitton?"
Although the French and Russian tri-colors are somewhat similar, the Louis Vuitton banner clearly matches the arrangement of the blue, red and white vertical stripes in France's flag. The Russian flag has a white stripe on top, blue in the middle and red on the bottom. The Russian military uses V as a symbol meaning "strength in truth" and the letter Z meaning "for victory," according to the Defense Ministry.
Last March, Louis Vuitton faced a similar wave of negative feedback for its jewelry collection, despite the lack of any indication that the company is supporting Moscow.
Louis Vuitton was among the first major fashion brands to pull out of the Russian market after Moscow's military operation against Kiev started in February 2022. Eight days after the offensive began, French luxury group LVMH announced the closure of its 124 stores in Russia. Hermes, Cartier and LVMH were the first major luxury goods companies to suspend operations in Russia.
You can share this story on social media: