New warnings about online censorship in Ukraine
A platform being rolled out to target scammers has triggered fears of more state control over the web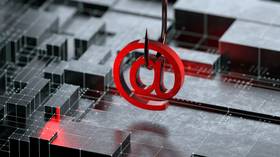 Ukrainian authorities have rolled out an automatic system to "filter out" malicious websites, used for online scamming and phishing schemes. The system was introduced on January 30 and enforced on Thursday, with all Internet providers in the country obliged to use it.
The new platform is expected to provide a list of malicious websites for providers to block, every 15 minutes. Its creator, Ukraine's National Center for Operating and Management of Telecommunication Networks, insists it is designed to only target scammers.
"The system is not intended for filtering domains and restricting access to Internet resources that are used to spread malicious programs, propaganda, disinformation, etc., as well as for Internet resources restricted under sanctions," the body said in a statement introducing the system.
Critics raised the alarm over the use of the system by the authorities as well as a potential breach by Ukraine's "enemies." The Ukrainian Internet Association, a civic group founded by MP Alexander Fedienko, voiced concerns to President Vladimir Zelensky, urging him to halt or drop the initiative altogether.
The association warned the system may end up being used to block any Internet resource the authorities deem undesirable. Apart from that, the critics pointed fingers at a feature of the system that enabled the collection, for unclear reasons, of personal data of users visiting malicious websites.
All in all, the whole system looks like a "Trojan horse," and potential implications for Ukraine's web, should it get breached by the country's "enemies," can be effectively fatal, the association warned.
Amid the ongoing conflict with Russia, Kiev has increasingly tightened its grip on the media and politics, outlawing multiple parties and shutting down numerous news outlets. In December, Ukraine adopted its controversial, long-debated, restrictive media law, with the legislation slammed as carrying "systemic problems for democracy" by the International Federation of Journalists (IFJ).
You can share this story on social media: