Ukraine slammed over restrictive media law
Kiev's "authoritarian" step threatens press freedom in the country, the International Federation of Journalists has warned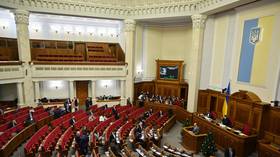 A controversial media law enacted in Ukraine last month could create "systemic problems for democracy" by greatly expanding government control over press freedom, the International Federation of Journalists (IFJ) stressed in a damning statement on Thursday.
"We are extremely concerned about the authoritarian drift of the Ukrainian government towards the media and journalists," IFJ General Secretary Anthony Bellanger said.
Established in 1926 and currently the world's largest organization of journalists, the IFJ says it represents media professionals "within the United Nations system and within the international trade union movement."
The concern expressed by the international body was over the fact that the new law grants Ukraine's media watchdog – the National Television and Radio Broadcasting Council – sweeping powers to effectively control the national media landscape. The organization cited the National Union of Journalists of Ukraine, which warned in mid-December that the Ukrainian media was set to become subordinate to a body formed by the president and the parliament.
Another journalist association – the Independent Media Trade Union of Ukraine – warned in early January that the law de-facto places the Ukrainian media "in full political and economic dependence on the personal decisions of the country's president" as it allows the state to revoke media licenses and ban media activities without a decision by a regulator or a court.
The legislation could "create systemic problems for democracy in Ukraine as it expands state control over the media," the IFJ head noted. He then called on Kiev to review the law and engage in an open discussion with the journalistic community. "There cannot be a democracy without independent journalism," Bellanger added.
The media bill had been in the works since 2020 but was only given the go-ahead amid the conflict between Moscow and Kiev. Ukraine's parliament adopted it in December 2022 and Zelensky signed it later the same month. The legislation allows the state media regulator to impose fines on media outlets in the country and revoke their licenses for publishing restricted materials.
It also specifically bans any positive coverage of Moscow's actions that challenges Kiev's official stance as part of an effort to tackle alleged "Russian propaganda." The law also reinforces a ban on all Russian media outlets, which had already been de-facto outlawed in Ukraine.
You can share this story on social media: