Russian defense minister inspects troops amid fight for key Donbass city
Sergey Shoigu has visited a command center helping to direct Moscow's forces in Ukraine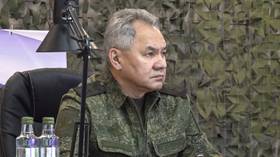 Russian Defense Minister Sergey Shoigu has inspected one of the command centers coordinating the military operation in Ukraine, the ministry said on Saturday. The minister flew by helicopter to meet with service members from the 'Vostok' (East) combat group at an undisclosed location in the "South Donetsk direction."
Shoigu discussed the work of medical units and broader supply issues. He emphasized the need to house troops in secure quarters, according to a statement from the Defense Ministry. The minister handed out medals, thanking soldiers and officers for "fighting admirably."
"The decorations are well-deserved, well-earned," Shoigu said. "There is still a lot of work ahead of us."
Russia sent troops to the neighboring state a year ago, citing the need to protect the people of Donbass and Kiev's failure to implement the 2014-2015 Minsk peace accords.
Shoigu's visit took place as Russian forces are fighting to seize the key Donbass city of Artyomovsk, referred to as Bakhmut in Ukraine. The city, which had a pre-conflict population of over 70,000, is a logistical hub that could enable further Russian advances.
On Friday, Evgeny Prigozhin, the leader of the private military company Wagner Group, said his forces had almost surrounded the city, with only one road left available to Ukrainian soldiers.
Ukrainian President Vladimir Zelensky said last month that Kiev was determined to defend the city, "but not at any cost." Aleksandr Rodnyansky, Zelensky's adviser, told CNN this week that Ukrainian troops could "strategically pull back" if necessary.
You can share this story on social media: