Russian diplomats mock US official over geography fail
White House spokeswoman Karine Jean-Pierre mentioned the non-existent "People's Republic of Russia"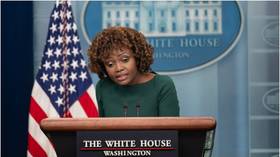 Russian diplomats have poked fun at White House spokeswoman Karine Jean-Pierre after she made a mess of their country's official name during a press briefing on Friday.
Jean-Pierre made the gaffe while previewing the upcoming meeting between US President Joe Biden and European Commission President Ursula von der Leyen at the White House.
The press secretary said the leaders would discuss "our work together to address the challenges posed by the People's Republic of Russia." The country's official name is the Russian Federation.
According to the official transcript from the briefing, Jean-Pierre misspoke and was actually referring to the People's Republic of China.
Nevertheless, the clip of Jean-Pierre's blunder made its way to social media. Dmitry Polyansky, the deputy head of Russia's mission to the UN, tweeted that the non-existent state "must be a foe of [the] United American Emirates and the British Confederation!"
Maria Zakharova, the Russian Foreign Ministry spokeswoman, shared the clip on her Telegram channel, writing "zombie apocalypse."
In March, Biden mixed up Ukraine with Russia during a conversation with historian Heather Cox Richardson. He claimed that President Vladimir Putin had decided "that he's going to just invade Russia." Biden later corrected himself.
In a speech in November, Biden said "the war in Iraq" when referring to the Ukraine conflict, before correcting himself.
You can share this story on social media: