Kamala Harris hid from reporters for a year – NYT
The US VP has deliberately avoided interviews since her "disastrous" 2021 attempt to outline border policy, according to a report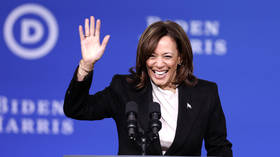 American Vice President Kamala Harris dodged most media appearances for an entire year after what was widely considered a "disastrous" 2021 TV appearance in which she failed to coherently explain the Biden administration's strategy for the US-Mexico border, the New York Times (NYT) reported on Monday.
Harris "all but went into a bunker for about a year" after her infamous interview on the border crisis with NBC's Lester Holt, the NYT revealed. The paper cited "White House officials" who explained that she was worried about "making mistakes and disappointing [US President Joe] Biden."
Since the NBC interview, in which Harris repeatedly claimed "we've been to the border" while Holt gently reminded her that she had not, the VP's television appearances have been few and far between. She did just five more media spots in 2021, one of which was a chat with a middle school student on YouTube, and booked only five major appearances for the entirety of 2022 – all within the first four months of that year.
According to the NYT, even Harris' "allies" have grown weary of waiting for the VP to distinguish herself politically, even though she was once considered Biden's obvious successor. "I can't think of one thing she's done except stay out of the way and stand beside him at certain ceremonies," Democratic fundraiser John Morgan told the outlet.
White House Press Secretary Karine Jean-Pierre recently struggled to name a single accomplishment by Harris when asked about her progress on the migrant crisis, an issue she was assigned in the first months of Biden's presidency. Last year saw record numbers of illegal immigrants enter the US via the Mexican border.
Harris did not win a single state primary when she ran for president in 2020, dropping out of the race before in-person voting began due to staffing and funding issues as well as poor poll numbers.
Democrats are increasingly questioning whether Harris has the "force, charisma and skill to mount a winning presidential campaign," the Washington Post reported recently, and the question of who could replace the aging Biden remains unanswered. Just 37% of Democrats polled last month by the Associated Press said they wanted the president to run for reelection.
You can share this story on social media: