Deadly incident at Russian military aircraft plant
A transport plane hull test in the city of Ulyanovsk resulted in several casualties, the manufacturer has said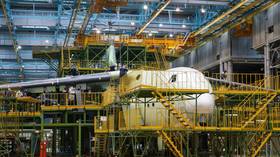 A test on a new military transport aircraft went awry in Russia on Thursday, the United Aircraft Corporation (UAC), the country's major state aircraft manufacturer, said. One employee died and several others were injured as a result of the mishap.
The incident took place at the Aviastar plant in the city of Ulyanovsk located in Russia's Volga region. The plant specializes in the production and maintenance of military and civilian transport aircraft.
At least one staff member at the plant died in the incident, the UAC said in a statement on Telegram, adding that several others were injured, although the exact number was not revealed. At least five people were affected by the accident, Russia's RIA news agency reported, citing the emergency services.
The reasons for the incident are still "being investigated," the UAC said. According to RIA, the mishap took place when the hull of an aircraft was being tested for structural integrity. Such tests entail the hull being subjected to excessive pressure, the news agency explained.
Russian media reported that the aircraft in question was an Il-76MD-90A, an overhauled model of a Russian heavy military transport aircraft. The aircraft is capable of transporting loads of up to 60 tons a distance of up to 4,200km.
The Il-76MD-90A is said to have a more powerful engine and more sophisticated onboard equipment and is capable of hauling heavier loads and flying longer distances. The aircraft is designed to be able to transport any heavy equipment used by the Russian Airborne Forces.
The IL-76 aircraft are also regularly used by the Russian Emergencies Ministry. Four such planes were deployed to Türkiye and Syria in the wake of a massive earthquake earlier this year. The aircraft had more than 100 rescue workers on board, as well as an airmobile hospital.
You can share this story on social media: