Russian warplane crashes near Ukrainian border
The pilot of the Su-25 close air support aircraft was killed, the Ministry of Defense has said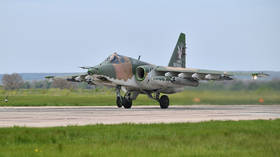 A Russian military jet has crashed in Belgorod Region, which borders Ukraine, the Russian Defense Ministry said on Thursday. The pilot died in the accident.
In a statement, the ministry said that the Su-25 close air support aircraft went down "after completing a combat mission when returning to the base airfield," adding that "its pilot has been killed."
The Defense Ministry noted that the tragedy occurred in an unpopulated area, with no infrastructure damaged. "Preliminary data indicates that the accident was caused by a technical malfunction," it stated.
According to unconfirmed reports, the pilot managed to eject himself from the aircraft and was taken to the hospital, but soon passed away due to his injuries.
Vyacheslav Gladkov, the governor of Belgorod Region, said the jet went down in Valuysky District, located directly on the border with Ukraine and around 150km east of the city of Belgorod. He added that local authorities and first responders are investigating the matter.
A similar incident took place in Belgorod Region last June, with another Su-25 crashing in the area during a training flight. At the time, its pilot managed to eject himself and survived.
You can share this story on social media: