Fighter jets crash during drills in India
A pilot was killed in an accident involving an Su-30 and a Mirage 2000, the authorities say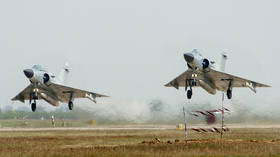 Two fighter jets crashed during training flights over central India early Saturday, military and civilian authorities have said. One pilot was killed in the incident, according to the Indian Air Force.
A Russian-made Sukhoi Su-30 and French Mirage 2000 aircraft went down in the Morena district in the state of Madhya Pradesh, Chief Minister Shivraj Singh Chouhan tweeted. It was later announced that debris from one plane was found in Madhya Pradesh, and the other hit the ground in the nearby state of Rajasthan.
Videos on social media show the remains of the aircraft and a huge blaze at one of the crash sites.
According to reports, the planes took off from Gwalior Air Base in Madhya Pradesh for scheduled drills. Contact with the aircraft is said to have been lost at around 5:30am local time.
There is speculation in the media that the two planes may have collided mid-air. So far, however, there have been no official comments on the cause of the incident.
#WATCH | Wreckage seen. A Sukhoi-30 and Mirage 2000 aircraft crashed near Morena, Madhya Pradesh. Search and rescue operations launched. The two aircraft had taken off from the Gwalior air base where an exercise was going on. pic.twitter.com/xqCJ2autOe

— ANI (@ANI) January 28, 2023
The Indian Air Force confirmed the loss of two of its planes in a tweet. "One of the three pilots involved, sustained fatal injuries," it said, adding that an investigation has been launched.
The other two other pilots were rescued and rushed to hospital, according to the local administrator in Madhya Pradesh, Ankit Asthana.
Russia's Sukhoi Su-30 is a two-seat multirole fighter jet, which has been around since the mid-1990s. The Mirage 2000 fighter, produced by French company Dassault Aviation, was introduced in the mid-1980s. It is available in both one- and two-seat modifications.
You can share this story on social media: