Russia accuses West of trying to 'threaten' China
The way some diplomats are behaving raises questions about their "state of mind," Foreign Minister Sergey Lavrov has claimed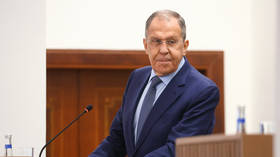 The West has abandoned traditional diplomacy in favor of blackmail and coercion, Russian Foreign Minister Sergey Lavrov said on Thursday, while arguing that it was unreasonable to try to intimidate China on the world stage.
"I have doubts about the state of mind of those who make such threats," Lavrov stated at a press conference after the G20 foreign ministers' meeting in New Delhi, India. "You shouldn't make threats in general. But when someone threatens China, given the current circumstances, I can't wrap my head around that."
"It seems that our Western colleagues have long discarded diplomacy and are only engaging in blackmail and threats," he added.
Last month, US Secretary of State Antony Blinken warned China of "serious consequences" if Beijing decided to supply weapons to Russia. The Chinese Foreign Ministry rejected the allegations, accusing Washington of "spreading false information."
US-China ties have deteriorated significantly over the years as the counties have been blaming each for tensions in the South China Sea and around Taiwan. Blinken canceled his trip to Beijing last month, after authorities claimed that a high-altitude balloon discovered over US territory was a Chinese spy device. Beijing has insisted that the balloon was a weather research airship that had veered off course.
In the 12-point Ukraine peace roadmap proposed by China last week, Beijing urged all countries to abandon "the Cold War mentality" and work towards a more fair security model for the world.
You can share this story on social media: