West turning G20 'into a circus' – Russia
Foreign Minister Sergey Lavrov has blasted critics at the global forum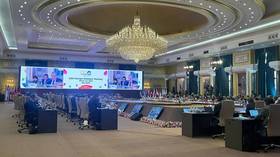 Russian Foreign Minister Sergey Lavrov has apologized to India for the behavior of some members of the G20, who, in his words, turned work on the group's agenda "into a circus" in an attempt to blame Moscow for their own mismanagement. New Delhi currently holds the rotating presidency of the club of the world's leading economic powers.
Lavrov expressed his embarrassment to the host and other countries from the Global South during a summit of member state foreign ministers being held at the presidential palace in the capital on Thursday.
The attacks against Moscow at the G20 look "particularly wild" coming from nations who "never complained at [the organization's] meetings over the many hundreds of thousands of victims of Washington's adventures in the Middle East, which were conducted under a pretext of national security" thousands of miles from American soil, Lavrov remarked.
Western officials have accused Russia of launching an "unprovoked attack" on Ukraine and causing a spike in global energy and food prices as a result. They have used several G20 events over the past year to express their views. Moscow has argued that the root cause of the market turbulence is ultra-loose monetary policy by the US following the Covid-19-triggered economic slowdown.
The top Russian diplomat blasted the US and its allies for trying to replace international law with "voluntarist rules and double standards." He urged the world to drop the "flawed logic of domination, diktat and sanctions" in favor of a fair multipolar arrangement, in which civilizational diversity is respected.
"We need to guard against illegal sanctions, manipulation of markets, arbitrary price caps and other attempts to appropriate other parties' resources," he stated. Western policies are "degrading international economic relations, weaponizing them," Lavrov stated.
He said Russia was shocked by the "unpunished sabotage" against the Nord Stream pipelines, which happened "in NATO's and the EU's zone of responsibility" and called for an international investigation, in which all stakeholders, including Moscow, would play a role.
The ministerial meeting was opened with a recorded message from Indian Prime Minister Narendra Modi, who called for a "unity of purpose and unity of action" by G20 states to overcome a crisis in post-World War II international architecture. He urged the participants of the summit to overcome their differences toward achieving that goal.
You can share this story on social media: