Russian regions come under mortar fire from Ukraine
Kiev's forces have carried out artillery and mortar strikes against civilian buildings in Russia's Bryansk and Kursk regions, officials report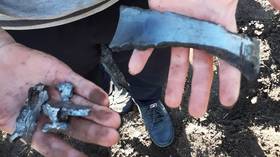 Villages in the Russian regions of Kursk and Bryansk came under heavy artillery fire from Kiev's forces, the governors of the two regions neighboring Ukraine reported on Thursday morning. The attacks have damaged several residential buildings and civilian structures. Several people have reportedly been killed or injured.
Kursk governor Roman Starovoit wrote in a Telegram post that Kiev's troops had shelled the village of Tetkino, which is on the Russian-Ukrainan border. At 11:17am local time he reported that the attack was still ongoing and that Russian forces were returning fire.
He also noted that there had been casualties from the attack and that emergency services had been dispatched to the area. Kursk officials have since confirmed that one person was killed and another was injured in the attack on Tetkino.
At the same time, Bryansk governor Aleksandr Bogomaz reported that the villages of Sushany and Lomakovka were also attacked using mortars and drones, which damaged several residential buildings. No casualties have so far been reported there, according to the governor.
While the shelling was taking place, a group of Ukrainians launched a raid in Bryansk region, attacking a vehicle and reportedly killing at least one person and injuring a ten-year-old child, according to Bogomaz. He added that Russian forces were taking all required measures to eliminate the saboteur group.
An explosion was also reported in a forest area in the Tula region at around 8am on Thursday. Locals said they heard a loud bang that was strong enough to shake the walls. There was no damage or casualties as a result of the incident, local officials said. Authorities have yet to confirm the cause of the blast, but one of the versions being investigated is a drone strike.
Tula governor Aleksey Dyumin has ordered increased security measures in the region in light of the recent attacks on Russian territories close to the Ukrainian border. His press service has insisted, however, that there is currently no threat to the residents of the Tula region.
Russian regions bordering Ukraine have repeatedly come under attack from Kiev's artillery and drones since Moscow launched its military operation in the country one year ago. The strikes have targeted energy infrastructure and residential areas, destroying civilian buildings and leading to a number of civilian casualties.
You can share this story on social media: