Russian security chief addresses foreign-backed 'revolutions'
Nikolay Patrushev spoke in Cuba, which is another country subject to US economic restrictions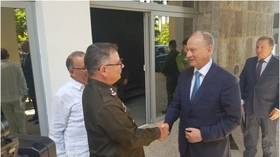 Nikolay Patrushev, the secretary of Russia's Security Council, met with Cuban President Miguel Diaz-Canel in Havana on Wednesday. They discussed ways to counter foreign meddling, with both nations now living under sweeping US sanctions.
During his trip, Patrushev spoke about measures against the "destructive activities" of NGOs and so-called "color revolutions," according to a statement from the Security Council. In this context, the term "color revolution" describes a Western-backed coup.
The two sides also spoke about cooperation against drug and human trafficking, as well as other forms of organized crime.
Patrushev also met with Cuban Interior Minister Lazaro Alberto Alvarez Casas and former President Raul Castro.
The Russian security chief also visited Venezuela on Tuesday, where he had a meeting with President Nicolas Maduro and spoke about "unprecedented pressure" by the US on Moscow's partners.
A Russian ally since the Soviet times, Cuba has refused to condemn Moscow's military operation in Ukraine and blamed the US for provoking the hostilities. "We denounce the sanctions against Russia and the sources of the current conflict… make no mistake, Russia is not responsible," Diaz-Canel said in November during his meeting with President Vladimir Putin in Moscow.
Diaz-Canel argued that both countries were subjected to Washington's "unjust" economic restrictions. The island nation has been living under a US trade embargo since 1962.
Diaz-Canel called the expansion of NATO closer to Russian borders "unacceptable."
Moscow has maintained that the US-led bloc's military infrastructure near its western border is a threat. Russian officials have cited the growing military ties between Ukraine and NATO members as one of the key reasons for the conflict.
You can share this story on social media: