Kremlin responds to Ukrainian denial of raids into Russia
Putin's spokesman has rejected Kiev's assertion that it wasn't involved in the recent incidents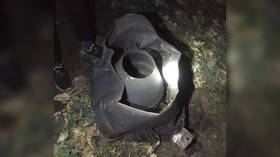 Moscow believes that Kiev is responsible for a recent spate of attempted attacks on Russian soil despite Ukrainian claims to the contrary, Kremlin spokesman Dmitry Peskov said on Wednesday. His remarks came after the Russian Defense Ministry said drone attacks had been repelled in various parts of the country.
During a call with journalists, Peskov was asked to comment on a statement by Ukrainian President Vladimir Zelensky's top aide, Mikhail Podoliak, who suggested earlier on Wednesday that Kiev "doesn't strike" Russian territory. Peskov replied that Moscow "doesn't believe" those claims.
According to a daily report from the Russian Ministry of Defense on Wednesday, ground forces shot down or disabled ten Ukrainian UAVs that were aiming to strike Crimea.
The ministry said separately that two drones were neutralized early on Tuesday when they were trying to attack targets in Russia's southern Krasnodar and Adygea regions. Local officials also reported drone incidents in Belgorod, Bryansk, and Moscow regions on Monday and Tuesday.
In a Twitter post on Wednesday, Podoliak described the raids as "internal attacks on infrastructure facilities by unidentified flying objects." Ukrainian officials typically deny or do not confirm involvement in incursions inside Russian territory, but have said that they view sites in Crimea as legitimate targets. The peninsula voted to leave Ukraine and join Russia shortly after the 2014 coup in Kiev. Ukraine has refused to recognize the new status of the area.
Moscow launched its military operation in the neighboring state a year ago, citing the need to protect the people of Donbass and Kiev's failure to implement the 2014-2015 Minsk peace accords. Russian regions that share a border with Ukraine have since been repeatedly shelled.
In December, drones attacked the Dyagilevo and Engels military airfields located 500km (310 miles) and 700km (435 miles) from Ukrainian-held territory respectively. Moscow said that Kiev was behind the raids.
You can share this story on social media: