Ukrainian drone raid on Crimea foiled – Moscow
Russian air defenses took down 10 aircraft, the Ministry of Defense said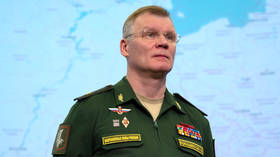 Russian forces have thwarted an air attack on the Crimean peninsula, neutralizing a total of ten Ukrainian drones, the Ministry of Defense said on Wednesday.
In a statement, the ministry announced that Russian forces "have prevented an attempt by the Kiev regime to carry out a massive drone attack on objects in the Crimean peninsula."
It added that six Ukrainian attack drones were taken down by air defenses, while another four were disabled by means of electronic warfare. "There were no casualties or destruction on the ground," the ministry stated.
It also noted that apart from these aircraft, in the past day the Russian military had destroyed another 15 Ukrainian drones in Kherson and Zaporozhye Regions, the Donetsk and Lugansk People's Republics, and in Ukraine's Kharkov Region – where Moscow's forces are conducting a military operation.
The raid comes after an unidentified drone crashed on Tuesday near a gas compression station not far from the city of Kolomna in Moscow Region. According to Governor Andrey Vorobyov, the aircraft "probably targeted a civilian infrastructure facility," but failed to achieve its aim.
The same day, Russia's Defense Ministry said that Kiev had tried to stage a drone attack on civilian facilities in the southern region of Krasnodar and the Republic of Adygea. However, the ministry claimed that the two drones were suppressed by means of electronic warfare, causing them to lose control and deviate from their flight paths.
You can share this story on social media: