Russia moves to extend anti-smear legislation
The State Duma will consider amendments to protect volunteer units and other entities aiding Russian forces in Ukraine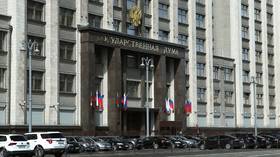 Russian lawmakers could expand legislation so that any attempts to discredit personnel and entities involved in the country's military operation in Ukraine can be punished, State Duma Speaker Vyacheslav Volodin has announced. Current legislation covers only the discrediting of Russian military and government agencies.
Writing on Telegram on Wednesday, Volodin revealed that the lower house of the Russian parliament would look into the initiative, which he said "would protect everyone who is now risking their lives while ensuring the security of the country and our citizens."
The Duma official stated that any actions aimed at smearing the Russian Armed Forces or those who assist them, including volunteer formations, was unacceptable.
Perpetrators could face "severe punishment," including a prison term of up to 15 years, community labor of up to five years, and fines of up to 5 million rubles ($66,500), Volodin added.
The initiative comes after Evgeny Prigozhin, the head of the Wagner private military group, published an open letter to Volodin in late January, asking the speaker to introduce amendments targeting anyone who attempts to discredit volunteers, including ex-convicts, who are involved in Russia's military operation in Ukraine. At the time, Volodin promised that the State Duma would consider the issue.
To enter into force, the amendments must pass three readings in the State Duma, be approved by the Federation Council – the upper house of parliament – and be signed into law by the president.
Following the launch of Moscow's military campaign in Ukraine in February 2022, Russian authorities have significantly intensified efforts to combat false information about the nation's forces. In early March, Russia adopted legislative changes which allow the authorities to impose large fines on those who break the law. Should such activities entail "grave consequences," offenders could face a prison term of up to 15 years.
You can share this story on social media: