Controversial Russian journalist sentenced for 'military disinformation' 
Aleksandr Nevzorov was found guilty of disseminating false information about the conflict in Ukraine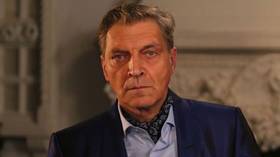 A Moscow court has handed prominent Russian journalist Aleksandr Nevzorov an eight-year prison term for spreading fake news about troops from his homeland. The media personality was sentenced in absentia after he fled Russia shortly after the launch of Moscow's military operation in Ukraine.
Nevzorov was found guilty on Wednesday of disseminating false information about the Russian Armed Forces during the conflict between Moscow and Kiev. The eight-year sentence was 12 months shorter than the punishment that prosecutors had demanded. The 64-year-old has also been banned from administrating any online publications for four years after serving his prison sentence.
The investigation found that Nevzorov had posted articles and videos on social media between March and May last year, assigning responsibility to Russian forces for a strike on a maternity ward in the city of Mariupol and the deaths of civilians in the Kiev suburb of Bucha. Moscow has repeatedly denied involvement in the incidents, with officials suggesting that they may actually have been staged by Ukraine.
The court-appointed lawyer who represented Nevzorov argued that he was not guilty because he had obtained the data in question from other open sources.
The sentencing came under Article 207.3, which covers the spreading of falsehoods about the Russian Armed Forces. It was added to the Russian Criminal Code shortly after Moscow launched its military operation in Ukraine, and carries a maximum punishment of up to 15 years in prison.
Nevzorov made a name for himself as the host and author of the '600 Seconds' news and analytics program on Leningrad television between 1987 and 1993. The popular show became one of the symbols of Perestroika, the democratization of Soviet society launched by then-President Mikhail Gorbachev.
Nevzorov served as an MP in four iterations of the Russian parliament, the State Duma, between 1993 and 2007. He also directed feature and documentary films, while hosting programs for Russia's Channel One and other broadcasters.
Previously describing himself as an ally of Vladimir Putin, Nevzorov went into opposition in recent years and started actively posting on YouTube and other social media platforms. He harshly criticized Russia for launching its military operation in Ukraine and has actively voiced support for Kiev in the conflict.
Nevzorov fled Russia in April 2022. He was declared a foreign agent the same month and placed on the international wanted list in May. According to media reports, Interpol refused to search for and extradite the journalist and several others sentenced on similar charges in Russia. Last June, Nevzorov and his wife were granted Ukrainian citizenship.
You can share this story on social media: