Putin accuses West of using 'extremists' against Russia
The number of terrorist attacks has grown due to the US and Kiev's willingness to use radicals to its advantage, the president said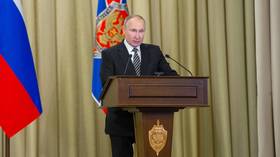 The West never shied away from using extremists against Russia and is doing so again during the conflict in Ukraine, President Vladimir Putin has said. He claimed that western intelligence agencies are aiming to restore terrorist cells inside Russia.
Countering this terrorist threat remains "an urgent" task for the country, Putin said while chairing a board meeting of Russia's Federal Security Service (FSB) in Moscow on Tuesday.
"Over the past year, the number of such crimes has increased, which is obviously connected to the attempts of the Kiev regime to employ terrorist methods. We are well aware of that. They have been using them in Donbass for a long time," he said.
The West, which is backing Kiev in the conflict against Moscow, has "never shied away from using both radicals and extremists in their interests, despite all their loud statements about fighting international terrorism," the president said.
"They always use whatever's at hand against us. They use everything that's possible. It was always like this and it remains so," he said.
Active attempts are currently being made by the Western special services to restore terrorist cells inside Russia, he warned.
It's essential to intensify counter-intelligence work and keep the Russian-Ukrainian border under extra supervision to prevent the smuggling of weapons and ammunition into Russian territory, Putin told the leadership of Russia's main security agency.
He praised the FSB's operatives, who have worked at the frontlines and "behind enemy lines" during the conflict in Ukraine, for their "personal courage, professionalism and determination in ensuring the security of Russia." The agency, he said, has obtained "priceless experience" that will allow it to execute its duties even more effectively.
Putin has previously blamed Ukraine for using "terrorist tactics" following the explosion on the Crimean Bridge in early October, which Moscow insists was masterminded by Kiev. That led to a major ramping up of Russian missile strikes on Ukrainian infrastructure and military targets, causing rolling blackouts across the country and significantly damaging Kiev's air defense capabilities.
You can share this story on social media: