Ukraine stepping up terror attacks – Moscow
Additional safety measures have been taken at key transport, fuel and energy facilities, the head of the Russian security service says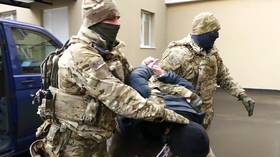 The number of terrorist incursions by Ukrainian special services and nationalist formations, targeting key Russian civilian and military infrastructure as well as government bodies, has significantly increased, FSB Director Alexander Bortnikov has claimed.
Speaking at a meeting of the National Anti-Terrorism Committee on Tuesday, Bortnikov announced that additional safety measures had been taken at transport facilities as well as fuel and energy complexes. He also raised the issue of strengthening anti-terrorist protections and intensifying efforts to prevent the involvement of citizens in terrorist activities.

"The enemy is making efforts to launch a propaganda campaign aimed at radicalizing the population, involving young people in terrorist and extremist activities," said Bortnikov.
"Under these conditions, the authorities and anti-terrorist commissions are taking additional measures aimed at ensuring reliable protection of facilities from terrorist attacks and intensifying preventive work in general," he stated, also alleging that Kiev's actions were being assisted by the "collective West."
Meanwhile, Russia's Foreign Intelligence Service (SVR) reported on Monday that the US has turned to Islamist extremists to plan terrorist attacks in Russia and other ex-Soviet republics, claiming that one group was being trained for this purpose at a base in Syria.
According to Moscow, Washington has recruited some 60 terrorists who have already been active in the Middle East and is currently training them at the Al-Tanf American military base, where they are being taught how to manufacture and use improvised explosive devices.
Back in December, SVR Director Sergey Naryshkin claimed that the White House was pursuing policies to create an "instability belt along Russia's external perimeter" and that the security services in Russia and CIS countries had a common goal of "counteracting" the West's "destructive actions."
You can share this story on social media: