Sanctions against Russia dubbed 'poison' for EU
The bloc's new restrictions only increase its dependence on direct competitors, according to Moscow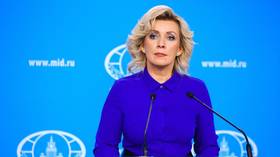 EU sanctions against Russia are missing the mark and instead chipping away at the bloc's economic independence, Russian Foreign Ministry spokeswoman Maria Zakharova said on Tuesday.
She slammed the tenth package of EU sanctions, which was unveiled on Saturday to mark the one-year anniversary of Moscow's military campaign against Ukraine. The measures targeted Russia's banking sector and sought to curb its access to dual-use and advanced technologies.
Each consecutive sanctions package clearly demonstrates one thing: anti-Russia restrictions are instruments that did not work.
Zakharova said she agreed with Josep Borrell, the EU's top diplomat, who earlier this month described the restrictions as "slow-acting but certain poison."
"The only thing is that they, first of all, 'kill' the economic sovereignty of the European Union. The EU can slap itself with any number of restrictions regarding trade with Russia; this will only increase its dependence on its direct competitors," she explained.
Zakharova also blasted the bloc's crackdown on Russian media, noting that Brussels was "deliberately destroying the foundations of democratic society, undermining the principles and values the EU was built on in the first place."
The spokeswoman also offered a reminder that "the EU, the US and their satellites found themselves alone" in imposing sanctions on Russia.
"The rest of the world… did not join any of the 'packages', rejecting restrictions as illegal, hurting the global economy and undermining food and energy security," she said, adding that the EU's threats to punish those who refuse to comply with the sanctions would only strengthen global opposition to what "essentially is the neo-colonial dictatorial policy of the West."
Since the start of the Ukraine crisis, the EU has imposed restrictions on a total of 1,473 individuals and 205 entities that the bloc said undermined Ukraine's territorial integrity. Russian President Vladimir Putin has described this campaign as "a full-blown sanctions war," adding that it had failed to bring about the collapse of the nation's economy.
You can share this story on social media: