Zelensky aide explains why Ukraine won't let men leave
Human rights take the back seat to obligations to the state, Mikhail Podoliak told German TV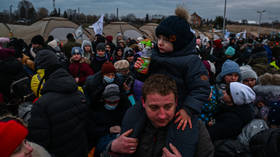 Ukrainian President Vladimir Zelensky's top aide has defended Kiev's decision to ban men from leaving the country, saying otherwise they could "run away." Fleeing the draft means wanting the country to be destroyed, Mikhail Podoliak told the German state outlet DW
"Let's be blunt here. No need to speculate. What does the restriction of rights mean? Do people in Ukraine not have obligations also? Or are we just talking about rights?" Podoliak told DW in an interview making the rounds on social media on Monday.
"The state has a duty to provide things, let people travel, let people live as they wish. Yes, in peacetime," he continued. "But in wartime, that's not a question to raise. Do you want to cross the border? That means you want Ukraine to stop existing, because you crossed the border."
"Because when you say 'Open the borders for men,' that means opening the border so they can run away from the manly choice. And they want to run away," Podoliak said.
His comments came as some Western outlets pointed out the "aggressive" mobilization tactics of the Kiev government. A report in The Economist on Sunday referred to the case of a man who was missing both hands since childhood, but the draft office in Lviv insisted he was fit to serve – until social media uproar forced them to relent.
After the conflict in Donbass escalated last year, Zelensky imposed martial law and banned Ukrainian males aged 18-60 from leaving the country. Since then, there have been several waves of mobilization, as Kiev sought to rebuild units shattered in the fighting.
Recruiters have moved from serving summonses on one's doorstep to "violently enforcing" them in the streets, at shopping centers, and even at military funerals, according to The Economist. Meanwhile, there have been reports of people bribing officials to dodge the draft and paying to be smuggled out of the country. Lawyers for some of the "unjustly" mobilized received summonses themselves, preventing them from practicing law.
Kiev is likely to ramp up "recruitment of less-motivated Ukrainians," the outlet said, as it hopes to launch a massive offensive before the summer, using heavy weapons provided by the US and its allies.
You can share this story on social media: