Disgraced CNN anchor glorifies Ukrainian use of child soldiers
The youths are "ready to die" fighting Russia, Chris Cuomo says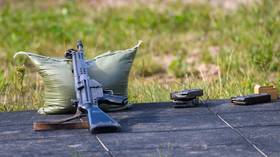 Former CNN star Chris Cuomo, who now works for NewsNation network, has visited an academy in Ukraine where he says teens are being prepared to go to the front and fight Russian forces.
The report by Cuomo emerged last week coinciding with speculation by some media outlets that Ukraine has been resorting to recruiting children and people with disabilities during its latest mobilization drive.
The "kids" of 15, 16 and 17 years of age "have made the decision… to put away their dreams and have only the single purpose of defending their country," the American journalist explained of what he saw at the academy.
The report featured footage of the teenagers in camouflaged fatigues learning to fire assault rifles via a computer simulation as well as training in a gym, while sporting black track suits with what looks to be a Ukrainian military insignia.
Cuomo appeared live on air with NewsNation from Kiev, but it's not clear from the report where exactly the academy for the teen soldiers was located.
The journalist spoke to one of the trainees, said to be 16 or 17, asking him if he was prepared to use his newly acquired skills on the battlefield. "Definitely, I'm ready for that… but it's scary," the boy replied.
He also wanted to know whether the young man was worried about the fact that "Russia has more people, Russia has more equipment. The rest of the world supports Ukraine, but they're not here fighting with you."
"They don't have to because they have their own families and their own place to live. Our country is our home and we're going to defend it," the boy insisted.
The Ukrainian youths "are ready to die" fighting Russia, Cuomo said, summarizing his visit to the academy.
He pointed out that he himself has a son, who is 17, confessing: "I can't imagine his life being a determination to save his family and to put his life on the line."
"In America, we take our freedoms seriously and we talk about it so profoundly, but, thank God, our kids don't have to live it," he commented, referring to the experience of some Ukrainian teens.
As for those fighting against Russia, "it's not just the warrior class – it's everyone that they can reach," Cuomo said of Kiev's approach to the conflict.
Moscow has accused the US and other Western backers of Vladimir Zelensky's government of pushing Kiev to fight against Russia "until the last Ukrainian." The Russian authorities have also repeatedly stated that they were ready to settle the conflict at the negotiations table but haven't seen any reasonable proposals from either Washington or Kiev. Last fall, Zelensky signed a decree that officially banned him from any talks with his Russian counterpart, Vladimir Putin.
You can share this story on social media: