US pushing Ukraine to fight to the end – WaPo
Moscow responded that Washington is pursuing a "Western war with Russia to the last Ukrainian"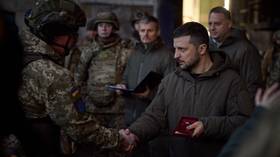 Ukraine has a diminishing window of opportunity to make territorial gains against Russia before military assistance from the US and its allies dwindles, senior American officials have told the Washington Post.
"We will continue to try to impress upon them that we can't do anything and everything forever," a senior member of President Joe Biden's administration was quoted by the newspaper as saying about the Ukrainian leadership.
Publicly, Biden has pledged to support Kiev for "as long as it takes" to defeat Russia. However, that stance does not apply to the extent of resources that Washington is prepared to send, according to the story published by the Post on Monday.
"'As long as it takes' pertains to the amount of conflict," the unnamed official said. "It doesn't pertain to the amount of assistance."
The newspaper cited a shift in mood in the US House of Representatives, where the Republican majority appears increasingly skeptical of Biden's Ukraine aid policy. It also referenced fatigue in Europe as another key threat for Kiev, as nations struggle with volatile energy prices and rampant inflation. The Ukrainian military likely has until summer to make progress, before the current US weapons package is exhausted, the Post added.
Russian Foreign Ministry spokeswoman Maria Zakharova said the newspaper had effectively described what officials in Moscow have called a "Western war against Russia to the last Ukrainian."
"US neoliberals have destroyed Ukraine and are exterminating the Ukrainian people. American hegemonic ambitions lead to a colossal loss of life," Zakharova stated on Tuesday.
According to the Post, senior US officials have relayed the Biden administration's position to the Ukrainian leadership. Its sources said that on occasion it had been difficult to convince Kiev to take Washington's preferred course of action.
One example cited was the conduct of the Ukrainian military in Artyomovsk (called Bakhmut by Ukraine), where Kiev's forces are clinging on even though US officials have told them it is not worth the sacrifice. President Vladimir Zelensky "attaches symbolic importance" to the city, the newspaper wrote.
The report stated that the US wants Kiev to launch a counteroffensive using new deliveries of weapons in the coming months, in an effort to seize as much land as possible before entering into negotiations with Russia.
Moscow has accused Kiev's Western backers of derailing peace talks in the early weeks of the conflict. Four former Ukrainian regions have since joined Russia after the local populations voted for the move in referendums. Russian officials have repeatedly asserted that the status of the new territories is non-negotiable.
You can share this story on social media: