Russia strikes intelligence center near Kiev – MOD
A special operations center in Western Ukraine was also hit, according to Moscow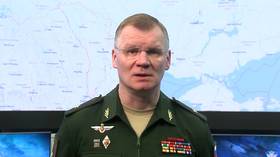 A Ukrainian electronic intelligence center located in the settlement of Brovary in the Kiev region has reportedly been struck by Russian missiles, according to a Monday update on the Russian Defense Ministry's official Telegram channel.
The ministry also reported that Russian missiles had hit the "West" special operations center, located near the city of Khmelnitsky in western Ukraine.
The update states that Russia's Armed Forces have continued their offensive in the Donetsk direction, where they have neutralized over 250 Ukrainian servicemen, as well a dozen pieces of military equipment, including two tanks. The Russian military also claims to have destroyed an ammunition depot near the city of Artyomovsk/Bakhmut as well as a US-made AN/TPQ-37 counter-battery radar.
In the Kupyansk direction, the ministry claims that Russian forces have eliminated up to 70 Ukrainian soldiers, and killed or injured about 140 troops in the Krasno Limansky direction. In the South Donetsk and Zaporozhye directions, they claim to have eliminated up to 95 enemy combatants, and up to 60 in the Kherson direction.
In a similar update on Sunday, the ministry also announced the destruction of six sabotage and reconnaissance groups in the Kharkov region, as well as the shooting down of a Ukrainian Mi-8 helicopter near the village of Golubovka.
Since the launch of Russia's military offensive in Ukraine one year ago, the Russian Defense Ministry estimates that the Ukrainian Armed Forces have lost a total of 390 airplanes, 211 helicopters, 3,248 UAVs, 406 anti-aircraft missile systems, 8,058 tanks and other armored combat vehicles, 4,228 field artillery guns and mortars, as well as 8,574 special military vehicles.
You can share this story on social media: