Russia no longer at mercy of global elite – Lavrov
Moscow will determine its own external conditions for development, the diplomat said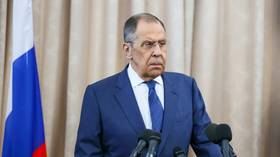 Western political leaders will no longer have the power to dictate terms to Russia, Foreign Minister Sergey Lavrov said on Monday. Speaking with the heads of the ministry's regional offices, the diplomat stressed that Russia will now determine its own needs for development.
"Until recently, a couple of years ago, the external conditions that we needed for development were determined not by us, but by the Western minority," said Lavrov. He added that all the foreign policy initiatives promoted by the so-called "golden billion" group serve the sole purpose of making sure that the world lives by rules that allow Western elites to continue their colonial policies and live at the expense of others.
"Therefore, we will no longer rely on someone when it comes to creating the external conditions for the development that we need," Lavrov stressed, also pledging that Russia will not follow in the footsteps of the "selfish" West, and will take into account the interests of other independent states.
According to the diplomat, Moscow aims to create external conditions that are as favorable as possible for the development of the country, but stressed that these conditions must also reflect "the consensus of all independent states" and fully comply with the principles of the UN Charter, which have been "repeatedly violated by our former Western colleagues."
During the meeting, Lavrov also noted that the number of countries wishing to join BRICS (Brazil, Russia, India, China, South Africa) and the Shanghai Cooperation Organization (SCO) economic blocs had increased to almost two dozen by the end of 2022. The diplomat noted that the countries wishing to join the alliances, such as Egypt, Turkey, Saudi Arabia, UAE, Indonesia, Argentina, Mexico and several African nations, "play a very prominent role in their regions."
"Just listing the names of these states already shows the failure of attempts [of the West] to isolate our country," Lavrov observed, adding that the opposite has happened, with independent countries now uniting with other like-minded states.
You can share this story on social media: