Canada sanctions Soviet hockey icon
Vladislav Tretiak, who is currently a Russian lawmaker, was the first Soviet player to be inducted into the Toronto Hockey Hall of Fame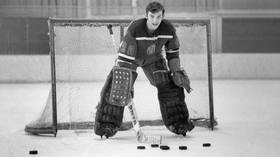 The Canadian government has imposed sanctions on Russian hockey legend Vladislav Tretiak, who currently serves as a member of Russia's lower house of parliament. Tretiak became a household name in Canada back in the 1970s during a series of keynote fixtures between the USSR team and the National Hockey League.
On Friday, exactly one year since Russia's attack on its neighbor, the office of Canadian Prime Minister Justin Trudeau said it was "imposing new sanctions on individuals and entities complicit in Russia's ongoing war against Ukraine."
Tretiak is among the 122 individuals on the list. Back in 1989, he became the first Soviet player to be inducted into the Hockey Hall of Fame in Toronto. As well as holding a seat in the State Duma, Tretiak serves as president of the Russian Ice Hockey Federation (FHR).
The Canadian authorities explained in the statement that the punitive measures affected Russian MPs "who have voted in favor of legislation related to the invasion and attempted annexation of four regions of Ukraine." The statement did not comment on or mention Tretiak's inclusion specifically.
The Soviet player rose to international fame in the 1970's when he was the Soviet goalkeeper during multiple games, which pitted amateurs from the USSR against professionals from the NHL. The intense face-off between the Soviet CSKA ice hockey club and the Montreal Canadiens on December 31, 1975, in which Tretiak played, went down in hockey history as one of the greatest games.
Russia's Ambassador to Canada, Oleg Stepanov, tweeted that the new sanctions were "meaningless," and a continuation of an approach that has "never worked against Russia" and cannot influence its policies.
You can share this story on social media: