Canada buys 'high-priority' gift for Ukraine
In a first, Ottawa will acquire a NASAMS air-defense system from the US to give to Kiev, defense minister has said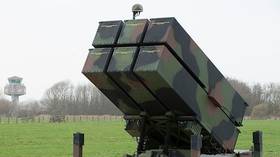 Canada will purchase a National Advanced Surface-to-Air Missile System (NASAMS) from the US in order to donate it to Ukraine, Defense Minister Anita Anand announced on Tuesday.
In a statement that came after the meeting of Canadian Prime Minister Justin Trudeau and US President Joe Biden in Mexico, the Department of National Defense described the move as "a high-priority donation." This gift is also expected to become "the first Canadian donation of an air defense system to Ukraine," it added.
The announcement said that this assistance, valued at about $406 million, comes from the additional $500 million in military aid to Kiev announced by Ottawa in mid-November.
In a tweet on Tuesday, Ukrainian President Vladimir Zelensky thanked Trudeau "for helping us to protect our sky" with the NASAMS.
The NASAMS system, which can shoot down missiles, drones and warplanes, will enhance Ukraine's air defense amid Russia's attack on its military and energy infrastructure, Ottawa said. Moscow intensified its strikes on these Ukrainian facilities in early October in response to recurring sabotage on Russian soil orchestrated by Kiev.
Ukraine is already operating US-supplied NASAMS, with the Pentagon having committed to send eight such systems to Kiev.
However, in mid-November the combat activities of Ukrainian air defenses sent shockwaves across the entire world and reignited fears of WWIII after a Ukrainian missile fell on a Polish village, killing two civilians. These concerns were underpinned by Warsaw initially blaming Moscow for the incident. Later, however, it conceded that the projectile had been launched by Kiev's forces.
Russia has repeatedly warned the West against providing Ukraine with weapons. In October, commenting on Washington's promise to supply Kiev with NASAMS, Kremlin Press Secretary Dmitry Peskov reiterated that this aid "would prolong the conflict and make it more painful for the Ukrainian side," arguing also that it would "not change the final result" of the hostilities.
You can share this story on social media: