Russian drones far cheaper than Ukrainian air defenses – NYT
Such an imbalance may cost Kiev and its Western allies dearly, the paper warns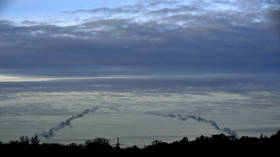 The fact that the smaller kamikaze drones used by Russia are much cheaper than the Ukrainian air defense missiles used against them is creating problems for Kiev and its Western backers, the New York Times has acknowledged.
In an article on Tuesday, the paper didn't question Kiev's claims that most of the UAVs launched by Russia are being shot down, but pointed out that even in this case Ukrainian air defense stocks were being exhausted.
"How long can Ukraine sustain its effort when many of its defensive measures cost far more than the drones do?" the NYT wondered.
In addition to trying to destroy the incoming drones with anti-aircraft guns and small-arms fire, Kiev's forces have "also relied heavily on missiles fired from warplanes and the ground," which are very expensive, it wrote.
The paper cited the head of the Ukrainian consultancy Molfar, Artem Starosiek, who claimed that using a missile against a UAV costs up to seven times more than the drone itself. The drones that Russia uses are priced at around $20,000 per unit, while a surface-to-air missile from Ukraine's arsenal ranges from $140,000 for a Soviet-era S-300 to $500,000 for a US-supplied NASAM system, he said.
The article claims that the drones used by Russia in Ukraine are Shahed-136s, supplied by Iran. This claim has been denied by both Moscow and Tehran on many occasions. The Russian Defense Ministry insists that its Geran-2 drones are domestically made, just like all the other hardware used in the military operation against Kiev. The Iranian Foreign Ministry has only confirmed sending a small batch of drones to Russia before the outbreak of the conflict with Ukraine, stressing that no new deliveries have been made since then.
Starosiek nevertheless defended Kiev's strategy, arguing that it still "costs far less to shoot down a drone than to repair a damaged or destroyed power station."
However, the NYT warned that the price difference between drones and air defenses was "an imbalance that could over time favor Russia, costing Ukraine and its allies dearly, some analysts say."
According to estimations by Molfar, Russia has targeted Ukrainian military infrastructure and energy systems with some 600 UAVs since September, when they began to be used more widely.
Russia drastically ramped up its strikes against Ukrainian infrastructure in early October in response to repeated Ukrainian sabotage on Russian soil, including the bombing of the Crimean Bridge, which Moscow blamed on Kiev. Although the attack was widely cheered by top Ukrainian officials, Kiev has denied any involvement.
You can share this story on social media: