Ukrainian FM dodges question on strikes deep into Russia
Kiev "can guarantee" it will use longer-range weapons to "liberate" the territories it claims, Dmitry Kuleba says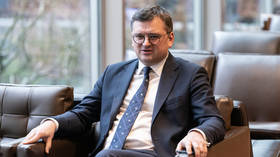 Ukraine is committed to using Western-supplied arms to seize back its former territories from Moscow, Foreign Minister Dmitry Kuleba said on Thursday. The top diplomat, however, stopped short of giving a promise to not use such weaponry to strike deep into the rest of Russia.
Speaking to Sky News, the minister reiterated Ukraine's repeated requests for modern Western-made jets. So far, however, no country has provided Kiev with such aircraft, while numerous top officials have expressed fears that doing so would greatly escalate the hostilities and may potentially lead to a direct collision between NATO and Russia.
"We're using weapons which we receive from partners to strike Russia in the occupied territories of Ukraine," Kuleba told the outlet, apparently referring to the Donetsk and Lugansk People's Republics, which, along with Kherson and Zaporozhye Regions, overwhelmingly voted to join Russia last autumn – just as the Crimean peninsula did in 2014.
When pressed on whether Kiev could promise that it would not use long-range weapons and jets for strikes inside Russia, Kuleba dodged the question, offering a somewhat vague "guarantee" instead.
"We can guarantee that we will be using Western weapons to liberate Ukrainian territories," he stated.
Moscow has repeatedly accused the collective West of enabling Ukraine to strike deeper into Russian territory. In his annual address to the Federal Assembly earlier this week, Russian President Vladimir Putin said Kiev's handlers had been directly involved in drone attacks on the country's facilities housing strategic, nuclear-capable aviation.
"We know that the West was directly involved in the attempts by the Kiev regime to strike the bases that house our strategic aircraft," Putin stated. "The drones used [in the raids] were equipped and upgraded with help from NATO experts."
Citing the ongoing hostilities and the Western involvement in them, the Russian president announced the decision to suspend the 2010 New START Treaty with the US that caps the number of nuclear warheads that can be possessed and the means of delivery, as well as allowing for inspections of each other's nuclear arsenal.
"I want to emphasize: The US and NATO are saying outright that their goal is to inflict a strategic defeat on Russia. And, after this, they are going to tour our defense sites as if nothing is happening?" Putin stated in his address.
You can share this story on social media: