F-16s useless in Ukraine – Wagner pilot
It's unclear what the US-made jets could achieve considering Russia's vast network of air defense systems, the PMC's member claims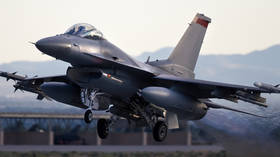 While Ukrainian forces are quickly incorporating munitions supplied by the West, it will take time and effort to effectively use Western fighter jets such as the US-made F-16, experts from the Wagner Group suggest.
Speaking to RT on Wednesday, one of the PMC's aircraft specialists commented on the potential deliveries of Western-designed military aircraft to Ukraine's armed forces, as Kiev has repeatedly asked the US and its NATO partners for increasingly advanced weaponry.
The Wagner expert pointed out that there would be a lot of problems with establishing repair centers and supplying spare parts for the expensive F-16 aircrafts, noting that talks about Western jet deliveries are just "noise."
The specialist noted that it's "unclear" what the F-16 "would even be doing here," considering Russia's air defense systems are all over the place and the jets will simply not be able to enter the combat area. "Our air defense systems are much more effective than the enemy's," he stated, noting that the Western jets are nevertheless "welcome to visit."
He also noted that Ukraine's air force has suffered significant losses during the past year, and that most of its pilots today are "Instagram youths," whereas Russia's air force consists of seasoned professionals that have extensive combat experience.
Meanwhile, a Wagner artillery expert admitted to RT that Kiev's forces, on the other hand, are likely to quickly adapt to Western-supplied military hardware, noting that the Ukrainian school of artillery has always been renowned for producing high-class specialists which can effectively use any equipment.
"They are a formidable opponent," he said, adding that Kiev's forces are unlikely to experience any shortage of munitions or any other problems in that regard due to continued Western aid.
However, he noted that NATO artillery is something the Wagner group already has had a lot of experience with. Although he refused to disclose any details about such previous encounters, he noted that the artillery systems they had come up against in the past were more advanced than what is currently being supplied to Kiev.
"They have taught us a lot, and we have developed our own tactics of conducting artillery warfare. But that is our secret, our own intellectual property, so to speak," he said.
You can share this story on social media: