Journalism association explains suspension of Russian union
The IFJ is upset about Moscow's RUJ opening branches in newly joined regions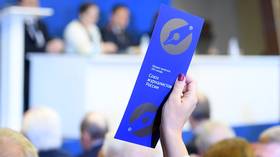 The International Federation of Journalists (IFJ) announced on Wednesday that it is suspending the Russian union's membership amid the conflict between Moscow and Kiev.
The IFJ accused the Russian Union of Journalists (RUJ) of acting "in a manner contrary to the principles… of the Federation." It said the RUJ opened branches in the four former Ukrainian regions that joined Russia following referendums in September 2022. The RUJ then "refused to reconsider" this decision, it added.
"The Russian Union of Journalists' actions in establishing four branches in the annexed Ukrainian territories have clearly shattered this solidarity and sown divisions among sister unions," IFJ President Dominique Pradalie said, commenting on the decision. The IFJ's statement did not specify how many members of the federation's Executive Committee endorsed the decision.
The Russian union may now appeal the decision at the next IFJ Global Congress, the organization said, adding that it will still be considered suspended in the meantime.
RUJ head Vladimir Solovyov confirmed he received the information about his union's suspension from the IFJ in a letter from the international organization's general secretary, Anthony Bellanger. Solovyov called the move political and unjustified. He also pointed to the fact that the IFJ had no issues with the RUJ opening a branch in Crimea, which also joined Russia following a referendum in 2014.
The Russian union does not plan to act on the development for now, Solovyov said. "We'll just stop paying huge [membership] fees and will have no joint events, but we had none for a long time anyway," he told Russia's Interfax news agency.
Solovyov also challenged the IFJ Executive Committee's ability to expel a journalism organization from the international association. Only a Global Congress can do that, he said, adding that the next congress will not take place until 2026. "We will be able to present our complaints there," he added.
The four former Ukrainian territories – Zaporozhye and Kherson Regions, as well as the Donetsk and Lugansk People's Republics – were formally incorporated into Russia in early October 2022 after the referendums, in which the populations of the territories overwhelmingly supported joining Russia. The two Donbass republics declared independence from Kiev in 2014 in the wake of the Western-backed Maidan coup in Kiev. Moscow formally recognized their independence in February 2022, shortly before launching its military operation in Ukraine.
You can share this story on social media: