Russia's closest ally makes claim about Western spies
The head of the Belarusian KGB said the focus was on recruiting officials with access to secret information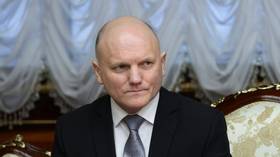 Western intelligence services have significantly ramped up their activities against Belarus, Ivan Tertel, the head of the State Security Committee (KGB), said on Wednesday.
Speaking at the session of the Council of the Republic, the upper chamber of the Belarusian parliament, Tertel said that Western spy agencies prioritize the "recruitment of persons who have the opportunity to obtain classified information … employees of law enforcement agencies and employees of the state apparatus."
In this vein, "aggressive activities of foreign intelligence services" to infiltrate Belarusian power structures require "complex measures" to neutralize the threat to national security, the KGB head said.
His comments came after the lower house of the Belarusian parliament approved new legislation allowing the death penalty for public officials and members of the military should they be found guilty of high treason. To enter into force, it should be approved by the upper house of the parliament and signed by Belarusian President Alexander Lukashenko.
Tertel said that while the Belarusian law in its current form envisages enhanced responsibility for officials convicted of treason, it does not cover all categories of people that could be targeted by the foreign intelligence. The changes in the legislation are meant to address this issue, he added.
This step "will become a serious deterrent for potential traitors," he said, describing the punishment as "a preventive measure aimed at precluding serious crimes against the state".
On Tuesday, Valery Revenko, Assistant to the Belarusian Minister of Defense, said that Minsk was facing external "threats which are primarily connected with large-scale militarization of the European continent and gradual build-up of foreign military presence on our borders."
You can share this story on social media: