Putin outlines importance of Russia-China ties for international order
Ties between the two powers are "crucial" for bringing stability to the world, the Russian president said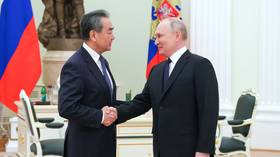 Russian President Vladimir Putin has hailed progress in relations between Moscow and Beijing, arguing that they serve as a lynchpin for international politics.
Speaking at a meeting with Chinese State Councilor Wang Yi in Moscow on Wednesday, Putin stated that relations "are developing as we have planned," adding that the two nations "are reaching new milestones."
The Russian leader also said that international relations have become "more acute," since the collapse of the bipolar world order several decades ago.
"Against this backdrop, cooperation between the People's Republic of China and Russia in the global arena, as we have stressed on numerous occasions, is crucial for stabilizing the international situation," the president stated.
Putin went on to highlight the cooperation between Moscow and Beijing in various international organizations, including at the United Nations and in blocs such as BRICS and the Shanghai Cooperation Organization. "We've got a lot of work to do together," Putin noted.
The Russian leader said that Moscow anticipated a visit by Chinese President Xi Jinping once Beijing had completed items on its domestic agenda. "We assume that we will realize our plans regarding face-to-face meetings, which will give an additional boost to our relations," Putin added.
On Tuesday, the Wall Street Journal cited sources as saying that the Chinese leader could travel to Russia in April or early May, and that he may use the opportunity to push for multiparty peace talks in a bid to end the Ukraine conflict.
Unlike Western countries, China has refused to condemn Russia's military operation in Ukraine and has not joined sanctions against Moscow. Beijing has repeatedly accused the US of inciting the conflict, also arguing that Washington has attempted to abuse its hegemonic status.
You can share this story on social media: