China outlines diplomatic goals with Russia
Beijing is seeking "a new horizon" in relations with Moscow, State Councilor Wang Yi said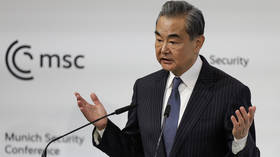 Moscow and Beijing are seeking to strengthen ties and remain committed to building a "multipolar" world, Chinese State Councilor Wang Yi said on Wednesday. The comments came as China's top diplomat met with Russian Foreign Minister Sergey Lavrov in Moscow.
"Despite the volatility of the state of international affairs, China and Russia… are firmly and resolutely working towards a multipolar world," Wang said, as quoted by RIA Novosti.
Wang, who heads the Chinese Communist Party's Foreign Affairs Committee, added that Beijing would continue to conduct an independent foreign policy based on "the spirit of mutual benefit."
He stated that China is seeking to "open new horizons in terms of further cooperation not just with Russia, but other countries as well."
Russian Foreign Minister Lavrov said Moscow and Beijing are "ready to stand in defense of each other's interests on the basis of respect for international law and the central role of the UN."
During his trip, Wang met with Nikolay Patrushev, the head of Russia's Security Council. The diplomat went on to hold a meeting with Russian President Vladimir Putin.
China has refused to impose sanctions on Moscow and has accused the US of stirring up the conflict in Ukraine. In a press briefing on Tuesday, Chinese Foreign Ministry spokesman Wang Wenbin branded Washington "the top disruptor" of international order.
Chinese Foreign Minister Qin Gang similarly urged "certain countries to immediately stop fueling the fire" in Ukraine.
You can share this story on social media: