Moscow provided no security guarantees to Biden – FSB
The US, however, did inform Russia about the American president's impending visit to Kiev, the Federal Security Service has said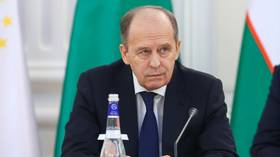 Moscow offered no security guarantees to US President Joe Biden during his surprise visit to Kiev on Monday, the head of the Russian Federal Security Service (FSB), Alexander Bortnikov, told journalists on Tuesday. Washington did tell Moscow about the visit, though, he added.
Former Russian President Dmitry Medvedev had earlier spoken about "safety guarantees" for the US leader from Russia as he commented on the visit. US National Security Advisor Jake Sullivan also told reporters on Monday that Washington had informed Russia about the visit in advance for "deconfliction purposes." He did not provide any details about the Russian response.
"The US did inform Russia about Biden's visit to Kiev through diplomatic means," Bortnikov said in the wake of Russian President Vladimir Putin's annual address to the Russian lawmakers. "We did not provide any security guarantees."
Moscow and Washington continue to cooperate in the field of security, the FSB chief noted, adding that their contacts are mostly in the realm of fighting against international terrorism. Yet, this cooperation is "far from what it was once," the Russian official said, stressing that "no one benefits" from this deterioration of contacts and "everyone is interested in maintaining these relations."
Bortnikov noted that Russia faces a terrorist threat posed by the Ukrainian security services. He maintained that "it is the West that is behind the threats coming from the Ukrainian security services." Russia is doing everything in its power to prevent such attacks, he added.
On Monday, Biden made his first visit to Ukraine as president. He pledged another $500 million in US military aid to Ukraine, saying that more "critical equipment, including artillery ammunition, anti-armor systems, and air surveillance radars" would be on the way. Air raid sirens were heard in Kiev during the visit, but there were no reports of Russian strikes at that time.
You can share this story on social media: