China presented 'key elements' of peace plan to Ukraine – Kiev
Beijing's proposals need to be studied "in detail," Foreign Minister Dmitry Kuleba has said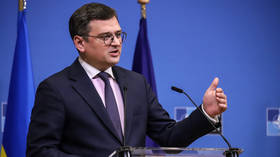 China has presented some of the key parts of its peace plan for Russia and Ukraine to Kiev, Ukrainian Foreign Minister Dmitry Kuleba said on Tuesday. According to the minister, the details were shared by Beijing's top diplomat, Wang Yi.
"He shared the key elements of the Chinese peace plan with me," Kuleba noted at a joint press conference with NATO and EU officials in Brussels, referring to Wang and adding that he was looking forward to getting the whole text. "It is necessary to study the details."
Kuleba did not reveal any of what was shared by the Chinese diplomat, though. The Ukrainian minister maintained that Kiev was giving priority to a "formula" devised by President Vladimir Zelensky.
Zelensky is currently pushing forward with his ten-point "peace plan," which, among other things, calls for Russian forces to withdraw to borders claimed by Ukraine, to pay reparations, and to submit to war-crime tribunals. Moscow has dismissed these demands as "unacceptable."
According to Bloomberg, the Chinese plan includes a call for territorial integrity to be respected, as well as a proposal on the security of nuclear facilities, and a ban on the use of biological and chemical weapons. The proposals also included calls for a ceasefire and a halt to arms deliveries to Ukraine, the media outlet reported on Monday, citing unnamed European officials.
The EU has already expressed skepticism about the Chinese initiative. European Commission Vice President Frans Timmermans maintained that peace can only be reached if Russia withdraws to Ukraine's borders of 1991.
"If we step away from the premise that borders are to be respected then hell will break loose all over the world," he stressed. Timmermans added, however, that it is still unclear what exactly the Chinese initiative might look like.
Moscow has repeatedly stated that it was ready for peace talks with Kiev. Earlier in February, a Russian deputy foreign minister, Sergey Vershinin, said that the talks between the two sides that took place last spring had been halted by Ukraine. He also maintained that such decisions are not made in Kiev and that it is Washington and Brussels who Moscow must talk to.
You can share this story on social media: