China-Russia relations 'rock solid' – Beijing
The ties between the two countries can "withstand" global challenges, state councilor Wang Yi believes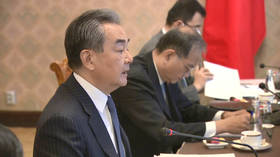 China's top diplomat Wang Yi said on Tuesday that the bond between Beijing and Moscow was strong and stable. During his visit to the Russian capital, the official met with Russian Security Council Secretary Nikolay Patrushev to discuss "mutually beneficial cooperation in all fields."
"China-Russia relations are mature in character and rock solid, able to withstand the challenges of the volatile international situation," Wang stressed. He added that the countries were ready to defend their national interests and dignity.
Patrushev responded to Wang by saying the relations between Moscow and Beijing had "inherent value" and "were not swayed by outside trends." He added that a strategic partnership with China was a priority for Russia as both countries were devoted to creating "a more just world order."
According to Wang, the two countries, as members of the United Nations Security Council, are responsible for "keeping the peace on the planet."
Wang announced on Saturday during the Munich Security Conference that China had a peace proposal for the ongoing conflict in Ukraine and that "some forces might not want to see peace talks materialize." He claimed he would present this plan at a later time.
Chinese leader Xi Jinping is also planning a visit to Moscow in the coming months for a summit with Russian President Vladimir Putin, as reported by WSJ, citing sources familiar with the plan.
Last week, US Secretary of State Antony Blinken stated that Washington had information that China was mulling over providing "lethal support" to Russia in the military operation in Ukraine and that this would have "consequences." Chinese foreign ministry spokesman Wang Wenbin said during Monday's press briefing Beijing would "not accept the US's finger-pointing or even coercion targeting China-Russia relations."
You can share this story on social media: