Russian president comments on 2024 vote
All democratic procedures are slated to proceed as planned, Vladimir Putin has said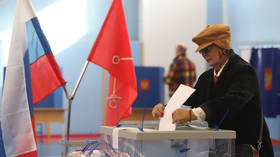 Despite the ongoing Ukraine conflict, all upcoming elections in Russia, including the presidential vote next year, will be held according to normal procedures, President Vladimir Putin said on Tuesday.
In his annual address to the Federal Assembly, which was mainly dedicated to the geopolitical stand-off with the West and ongoing hostilities in Ukraine, Putin said that the conflict would not hinder Russia's democratic process.
"I want to stress that both local and regional elections to power structures this September as well as the 2024 presidential election will take place in strict compliance with the law and all democratic and constitutional procedures," Putin said in his remarks to Russia's main legislative body.
Regional elections in Russia will take place on September 10 and will include by-elections to the lower house, the State Duma, as well as voting on the lower municipal and local level. Elections are also planned in the Donetsk and Lugansk People's Republics as well as in Kherson and Zaporozhye Regions, which overwhelmingly voted to join Russia in public referendums last autumn.
The presidential election is slated for mid-March 2024. Kremlin Press Secretary Dmitry Peskov said in late January that Putin's presidential office had not yet started getting ready for that vote.
"It's still early, the campaign has not started yet, the Kremlin has a lot of pending business. You see that the president has a very busy schedule and agenda," he noted at the time.
You can share this story on social media: