Russia issues warning about future of Ukraine conflict
The US and its allies intend to take the military standoff global, Vladimir Putin has said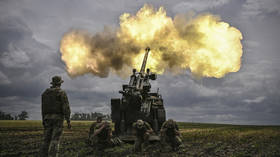 Western elites "intend" to transform the conflict in Ukraine from a regional to a global one, Russian President Vladimir Putin has said. Moscow perceives this as an existential threat and will react accordingly, he said.
The goal of those in power in the US and other Western nations is to "end us once and for all," the Russian leader stated during a keynote speech on Tuesday. They are using Ukraine as a "battering ram" against Russia and don't care how many people will die as a result, he said.
"They intend to turn a local conflict into a phase of global confrontation. That is how we understand things and will react accordingly. Because the issue here is the existence of our state," Putin said.
The Ukraine conflict was unleashed by the West when it supported an armed coup in Kiev in 2014, the Russian president noted. Western powers then poured resources into the new regime, even as it used the military against its own population and became increasingly nationalist and extreme.
Western elites "don't care who they are betting on in their fight against us, their fight against Russia. They just want them to go to war," Putin observed. The current Ukrainian government is "alien" to the people it governs and serves Western interests, he believes.
"Nobody among them counts the loss of human lives and tragedies, because trillions of dollars are at stake, an opportunity to keep robbing everyone under the cover of rhetoric of democracy and freedoms," the Russian leader warned.
He said that ultimately Russia's opponents must realize that the country cannot be defeated on the battlefield. That is why they target it in different ways, trying to undermine its unity via historical revisionism and attacks on Russian traditional values, Putin explained.
The remarks were part of the president's address to the Federal Assembly, as both chambers of the Russian parliament are called, as well to as senior Russian officials and public figures.
You can share this story on social media: